Guest Workshop - SHOOSH! Words are Easy, Silence is Hard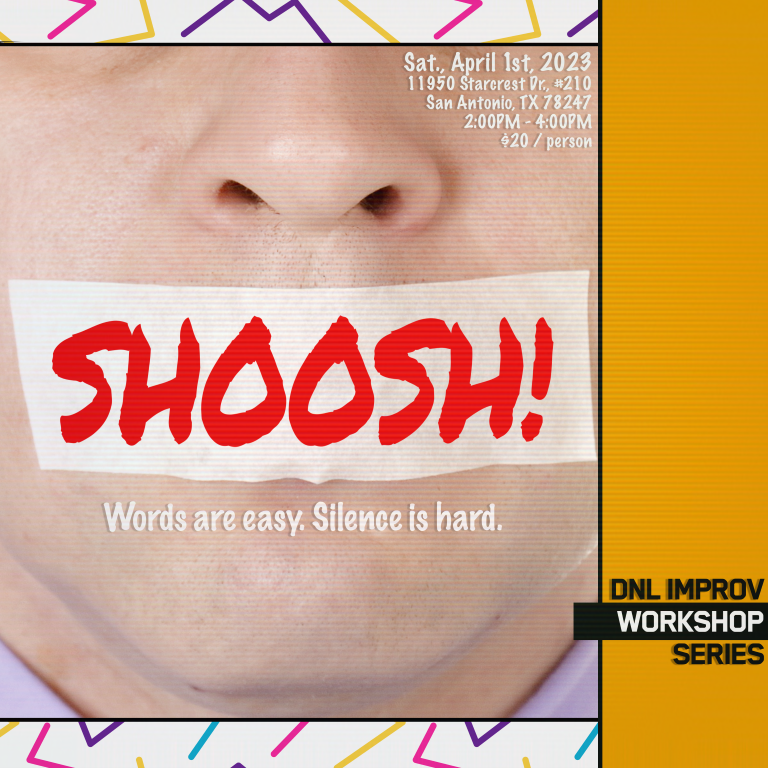 Guest Workshop - SHOOSH! Words are Easy, Silence is Hard
2:00 PM Saturday, April 1, 2023
Guest Workshop: SHOOSH! Words are Easy, Silence is Hard
Words. They mean everything. Discussions, conversations, arguments, lectures, songs, poems; our world is filled with words… But what if our words were limited?… Or gone?… What would we do? How would we communicate?… Especially in IMPROV!?!?
This workshop will help you choose your words wisely and express your feelings, emotions, wants, etc., in few (or zero) words. Learn how to DO/SHOW the things that you would usually SAY/TELL.
FACILITATOR: Brian Scribner
INSTRUCTOR BIO: Brian has been improvising since birth (because life doesn't come with a script). He has dined with royalty, and toiled with peasants, yet he has always returned to his first love… improv. As no one knows his true age, it is entirely possible that he was there for the creation of improv itself. It remains one of life's greatest mysteries. You can also see him perform at ComedySportz San Antonio, with MY 4 DADS, as 1/2 of BS & DAVE, or at random HEB's. (Brian has taught, coached, or performed alongside 87.4% of San Antonio's Improv Community)
NOTE: 75% of all ticket proceeds will go towards offsetting the travel costs for future out-of-town improv teams in an effort to bring new and exciting workshops from improvisers around the country to the San Antonio area… And be sure to catch DADURDAY NIGHT LIVE that same night (April 1st at 10PM)! Check this website for more info.
LENGTH: 2 hours
TIME: 2:00PM - 4:00PM
ADMISSION PRICE: $20