Guest Workshop with CTUN!!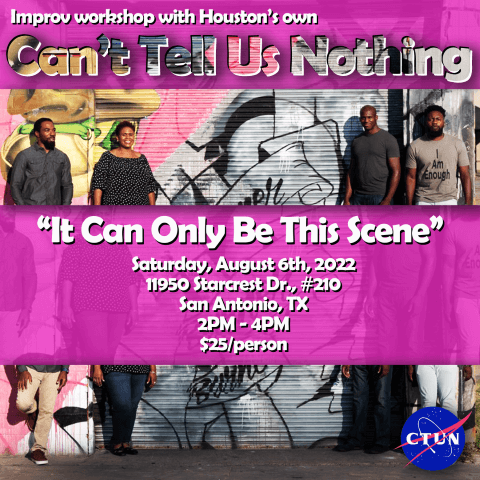 Guest Workshop: It Can Only Be This Scene - with Can't Tell Us Nothing
Each scene you perform in improv is unique and will be funny, insightful, and moving in its own way. CTUN will walk you through some exercises that reflect how we like to approach the world of scene building and how we take our scenes to the next level.
Date & Time: Sat, August 6th 2:00 PM - 4:00 PM CDT
Location: ComedySportz San Antonio
Admission Price: $25
Facilitators: Tandiwe Kone, Jon Myles, Amechi Ngwe, Antoine W.B.
Instructor Bios:
Tandiwe Kone is a native Houstonian and has been a fixture in Houston's improv comedy community for many years. She is also an Improv coach and teacher and has performed in improv festivals across the country.
Jonathen Myles is a Transplant Houstonian and in Houston's improv comedy community for many years. After graduating from Station Theater in 2012, He was performed for 2 years with the "Supernova Cast" Station Theater and Houston's Longest Running Improv Show. You can also catch him in other troupes around town. When he is not performing, Jon enjoys being an improv coach and teacher for other local Groups in Houston.
Amechi Ngwe is a writer, improviser, and improv coach. He performs improv comedy at venues across Houston — primarily at Station Theater and ComedySportz with troupes such as Can't Tell Us Nothing and 2H Club.
Antoine W.B. is a Houston-born improviser and improv coach and is most commonly found performing at Station Theater, but has been known to perform at ComedySportz and local high schools. Antoine's troupes have performed in a number of large improv festivals, including Chicago Improv Festival, Trill Festival, LA Diversity in Comedy Festival, and the Del Close Marathons.